How To Look Taller – A Men's Guide On Looking Taller & Slimmer
9 min read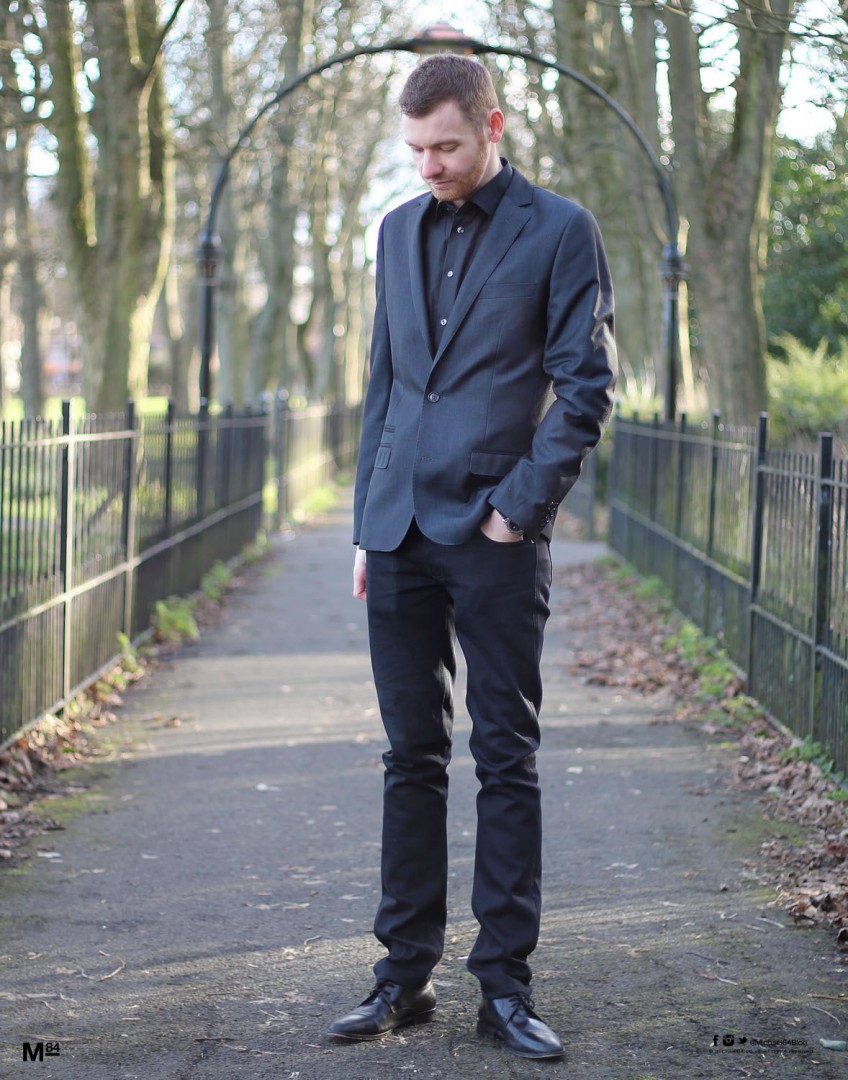 Did you know that the average height for a man in the UK these days is 5ft 10in? It seems to keep going up and up, the new generation are getting taller.
If you feel on the short side and would like to be taller, you can't. You can however dress to make yourself look taller.
It's all about wearing the right clothes, colours and styles, which will make you appear taller than you actually are.
Here's how you can look taller and slimmer simply by choosing the right clothes for your body.
If you're feeling short, don't worry. You're not alone. A lot of guys aren't happy with their height.
There's no magic spell that can make you over 6 foot, but you can appear taller than you actually are. It's done by wearing the right clothes, that can transform your body shape.
I'm going to give you some tips on how you can present yourself to look taller which are really easy to implement into your life and everyday style.
I am right on 6ft, and I've never really felt small. But going out these days, guys seem to be looking taller and taller.
I have found that although I can't change my height, I can change how tall I look, it's all done with style.
There's plenty of little style tricks, secrets and tips on how to make the most of your height.
Just by changing your clothes you can make yourself look taller.
Here's 11 easy ways to look taller just by changing the way you dress, and some mistakes to avoid if you're self-conscious about your height.
Posture: Stand Up Straight
This is something you can do without fashion, and something I don't do enough myself.
My posture is terrible. I've had back pain and problems with my back, and I was encouraged by my physio to stand up straight, at all times, don't stoop, don't slouch.
This isn't just good posture for the back, but it does make you look taller.
Having the perfect posture and standing up straight will immediately make you look taller if you've previously had bad posture.
I've had people who I've known for years ask me if I've grown or that I look taller, just by standing correctly.
Lose Body Fat
Having a slim and sleek look will undoubtedly make you look taller.
It can also give you actual inches, with less weight and stress being placed on your spine and therefore giving you better posture.
Not only that, you'll find that wearing the right size clothes a lot easier, and they will look better giving you an all round better every day look.
Get The Fit Right
We say this time and time again, and it's the number 1 rule of style whenever you're getting ready, no matter what the occasion – Get the fit right.
The fit is key, and you should get clothing which fits.
Guys often buy clothing to hide their size. It doesn't work.
Trust me, everyone can see you. Buying something larger looks sloppy, and too small will look silly and be really uncomfortable.
You can check out my how to measure yourself for clothes guide and get the perfect fit every time with ease.
Wear Monochrome / Very Similar Colours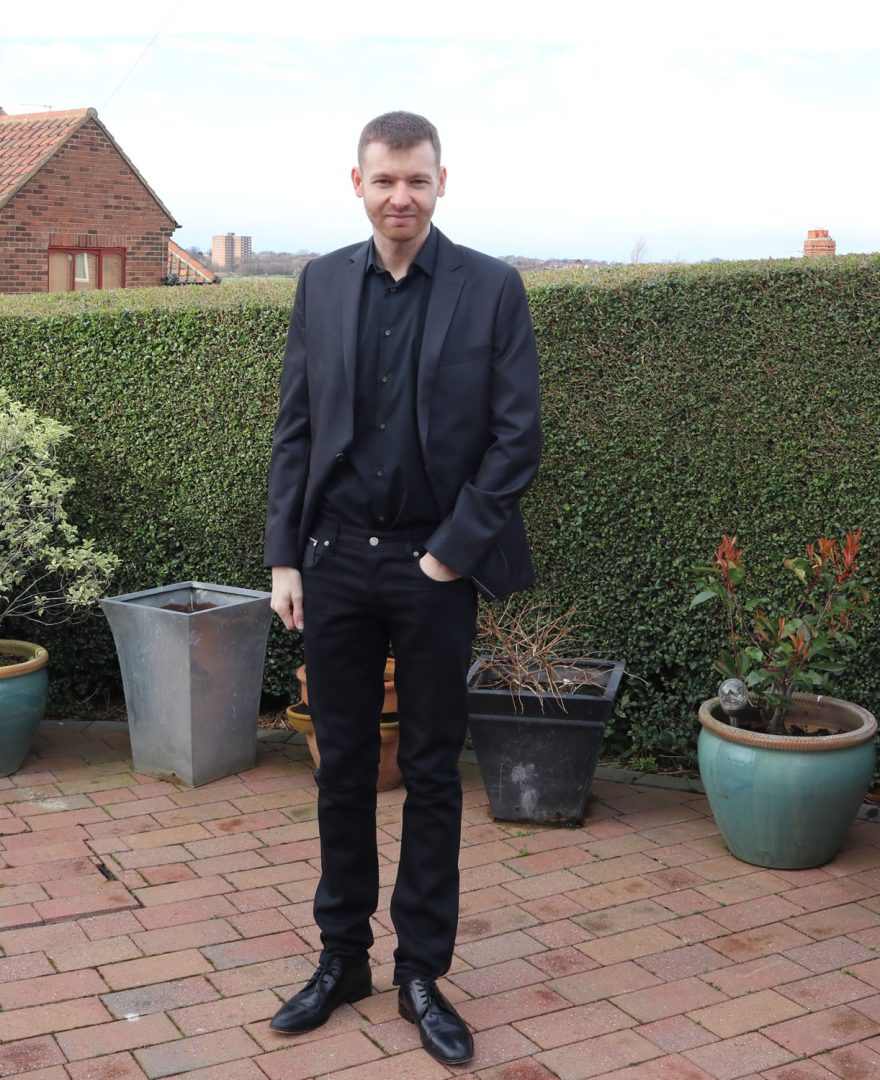 Colour blocking is the devil for short guys who want to look taller.
If you're short, splitting up your body with the colour of your clothing will chop up your body and make you look smaller.
Whether it's your lower half which is small, or your top half.
The better option is to go monochrome, or wear colours of very similar tone.
This will elongate your body, and give you a sleek look. Giving you a nice silhouette.
You can also go for colours which are a similar tone if wearing all one colour is not something you want to do.
For a casual look, wearing black jeans with a black T Shirt is the perfect combination.
Black is known as a slimming colour. Pairing the same colour jeans and T-shirt will create a nice long silhouette, giving you a few extra inches (to the eye at least).
Prefer a smarter look? No problem.
You can wear a black shirt and black jeans, and even throw over a black blazer. Once again the all black look will give the illusion of you being taller than you are.
Keeping things dark will work well, so using black, dark grey and navy in your outfit will work well.
Wearing the same or very similar clothes top to bottom will elongate your silhouette. You'll appear taller and slimmer.
Jeans/Trousers – Getting The Perfect Fit
Moving on to the lower half of your body.
Whether it's jeans, trousers or something else, getting the fit right is important.
You should wear the best fit of jeans for your body type.
But what do you look for?
If you're a slimmer guy, get a slim cut of denim, and if you're a little larger on the waist size, go for a regular cut.
I have a slim frame, and therefore my personal preference when I go for jeans is usually a slim cut. Occasionally I may opt for a skinny or a straight cut.
Getting loose or baggy fits will result in your outfit looking sloppy and won't add any height.
Stick to mid rise and wear your jeans or trousers at your waistline. No drop crotch or high waist trousers.
When it comes to colours, I've always found darker denim is a lot more pleasing on the eye.
Go for indigo or black jeans if you top half is also in a darker colour.
If you're going for a smarter suiting option, then you'll already be set.
The more important part of the fit to look taller is the leg length and type.
You want the leg length to fit perfectly. No break, no flares, no cuffs – You want your trousers or jeans to just hit your footwear.
It can be tough at times to get the perfect length. You should be able to go to a local tailor and get your trousers or jeans altered, at a very small cost.
A lot of the higher end denim brands only do one leg length, long. These are likely too long for you.
To just shorten a pair of jeans, it can cost around £10, depending on where you go, and it will be an investment.
Darker denim, the right fit and leg length are the key to making sure your lower half is on point.
The Perfect Fitting T Shirt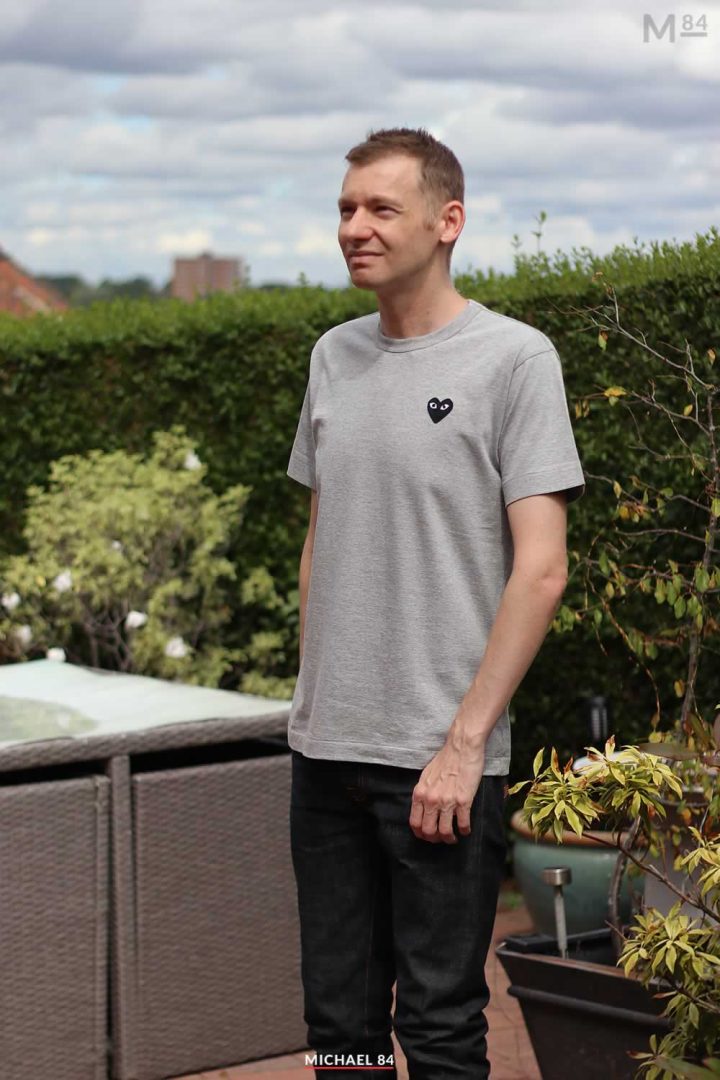 We all love T-shirts, they're easy to wear. If you've read my T-shirt tips and advice, you'll know everything there is to know about tees. When it comes to dressing tall, getting the style and fit is important.
But how is the fit?
As with most of this guide, the advice is to go with a fitted tee.
There's a ton of fits available these days. To create a longer body, you want a t-shirt which has a slightly longer length, and is fitted.
Don't go for the boxy types, not the oversized, and not shorter, cropped ones either.
If you can get one which is slightly longer (not long length) and fits well, it will create a longer look.
When it comes to colours and patterns, it's better to go for a plain tee, or if you have to go for a pattern, vertical stripes.
If you're going for a casual outfit, a plain well fitted t-shirt is a good choice. Make sure the colour is close to what you're wearing on your lower half to appear taller.
Avoid Big Patterns Or Horizontal Stripes
Large graphic patterns, and especially horizontal stripes are not good for short guys. There's too much going on, and the horizontal stripes don't work well at all.
The illusion is that you look shorter and wider, and it's seriously true.
If you look at the above pictures which were taken a few weeks apart, I look completely different in height.
One is a pattern shirt with a belt and a variety in colour palette, and the other is all black.
The all black photo makes me look taller, although I'm obviously the same height.
Choose An Overcoat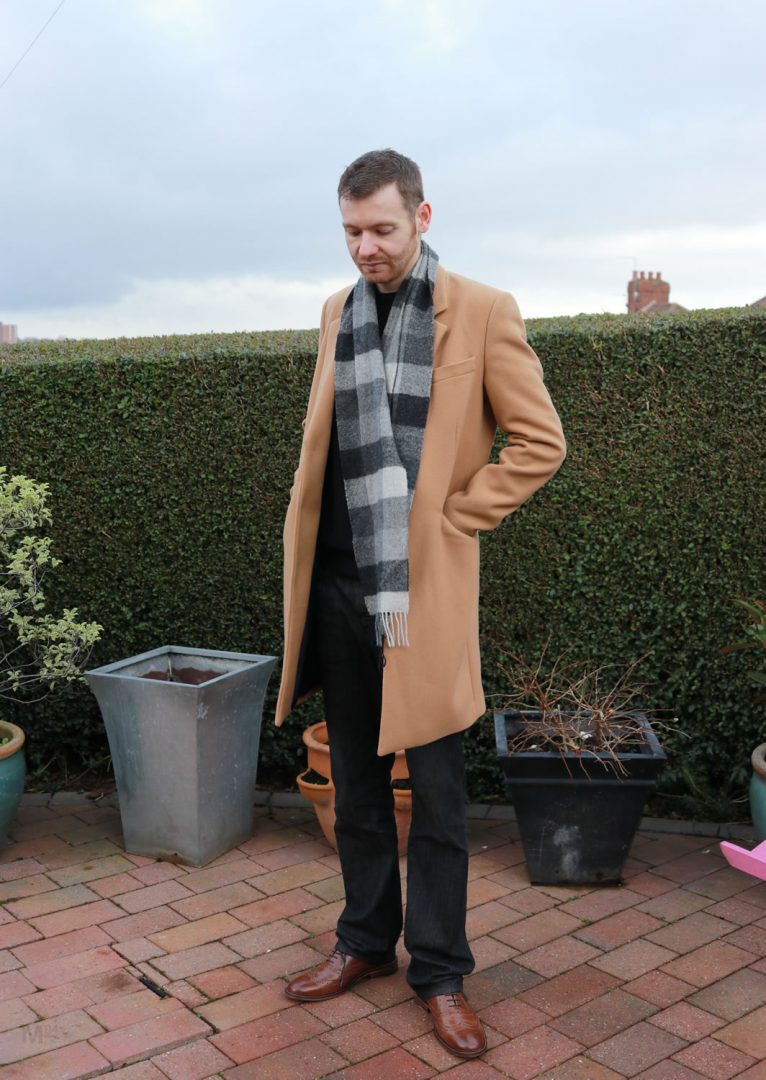 When Winter comes and you want to add a couple of extra inches, I think an overcoat works really well.
The men's overcoat trend is something I only jumped on later in life, but I am a big fan of the outerwear.
Get a good fit which has a nice length to it, it will streamline your body shape, giving you a nice larger appearance.
I like the camel colour, but if you're looking for something a little darker, greys and black will also work well.
I liked the overcoat trend so much I got a navy overcoat from Massimo Dutti too.
The Tie And Other Accessories
Using accessories can give off a positive illusion, and there's nothing better than a tie.
Make sure you get the type right, with a slim or skinny tie working well, along with being fashionable at the same time.
You'll want to avoid a belt, or anything else which breaks up your top and lower half.
Stay Clear Of Short Sleeve Shirts
When you're going for a shirt, make sure you opt for a long sleeve shirt.
Short sleeves will make your arms look shorter, and give you an overall shorter look.
Instead go for the long sleeve shirt, and if it's Summer, you can always roll them up if absolutely necessary.
Hairstyles That Make You Look Tall
You can style your hair in such a way to make you appear taller. Having less hair on the sides than the top can make you appear slightly taller than you actually are.
A spiky hairstyle, high top fade, side parting or slicked back hair can give you that extra height you might be looking for.
Faking It With Shoes
If you want to literally add some inches, the only feasible way of doing it is in your footwear. Wear some shoes which will give you a little bit of height.
A slight heel or lift in your shoes can give you an added inch or two, if you're really looking to add a little bit more height.
Always remember to pick out the right footwear for your outfit. Keeping the colours similar to your jeans or trousers keeps your silhouette streamlined.
Find A Tailor And Have Your Clothing Adjusted
Generally, clothing manufacturers make clothes to fit as many people as possible.
That means most people will be walking around with clothing which doesn't really fit them properly. A small in one brand may be slight different to a small in another.
The way around this is tailoring. It may sound a bit pretentious or bourgeois, but having your clothing adjusted is perfectly fine.
It isn't as expensive as you might think either.
As already mentioned above, getting some inches cut off your trousers or jeans won't cost the earth. You can get them hemmed by a local tailor which you'll have in your town or city.
Verdict
By wearing the right clothes or adjusting your style, you can make yourself look taller, all with the illusion of fashion.
The aim is to create one long and sleek silhouette of your body, from top to bottom, getting the colour and fit right is the best start, and you'll be looking taller in no time.
If you like these tips you can check out my mens style guide which has plenty more tips and advice on helping you dress better.